Arbuscular Mycorrhizal Fungi and Trichiderma spp Influence on Nutrient Uptake and Water Stress Tolerance in Cowpea (Vigna unguiculata L. Walp)
Keywords:
drought, nutrients, inoculation, productivity, field capacity
Abstract
Drought and nutrient un-availability are amongst the major environmental stresses that hinder plants productivity. The use of synthetic fertilizers in drought-stricken lands is unaffordable to most small-holder farmers and contributes to environmental pollution.  This study was conducted to determine the influence of Arbuscular Mycorrhizal fungi and Trichoderma spp on nutrient uptake in cowpea at different soil water levels under greenhouse conditions. The experiment was conducted using a 3 × 2 × 8 factorial arranged on a completely randomized block design with the three water levels treatment of90 % (no stress), 60 % (mild stress), and 30 % (severe stress) of field capacity (FC). Two cowpea varieties (KVU 27-1 and K80) were used in each water level and each was subjected to eight fungal inoculation treatments: Funneliformis mosseae, Rhisophagus irregularis, Trichoderma harzianum, Trichoderma asperellum, Funneliformis mosseae + Rhisophagus irregularis, Trichoderma harzianum + Trichoderma asperellum, T. harzianum + Funneliformis mosseae + Rhisophagus irregularis, and control (un-inoculated) that were in the replicates of four. The shoot tissue analysis was done to determine the nitrogen (N), phosphorous (P) and potassium (K) contents.  The data were subjected to a Two-Way ANOVAto determine the influence of the two fungi on nutrient uptake.Means were separated using Bonferroni at p < 0.05.  Results showed that all the shoot nutrient contents were significant at (p<0.05) with soil water level treatment in both varieties. Water stress negatively influenced shoot nutrient contents. The combined inoculation of HarS and HBB greatly influenced shoot nutrient levels for both cowpea varieties than the controls. The highest N and P shoot content were 3.7 % (in KVU 27-1) and 0.12 % (in K80) inoculated with HBB and HarS respectively. The highest K content was 2.7 % in both varieties inoculated with HarS. Therefore, co-inoculation of HarS and HBB was the most appropriate to nutrient uptake in the cowpea varieties.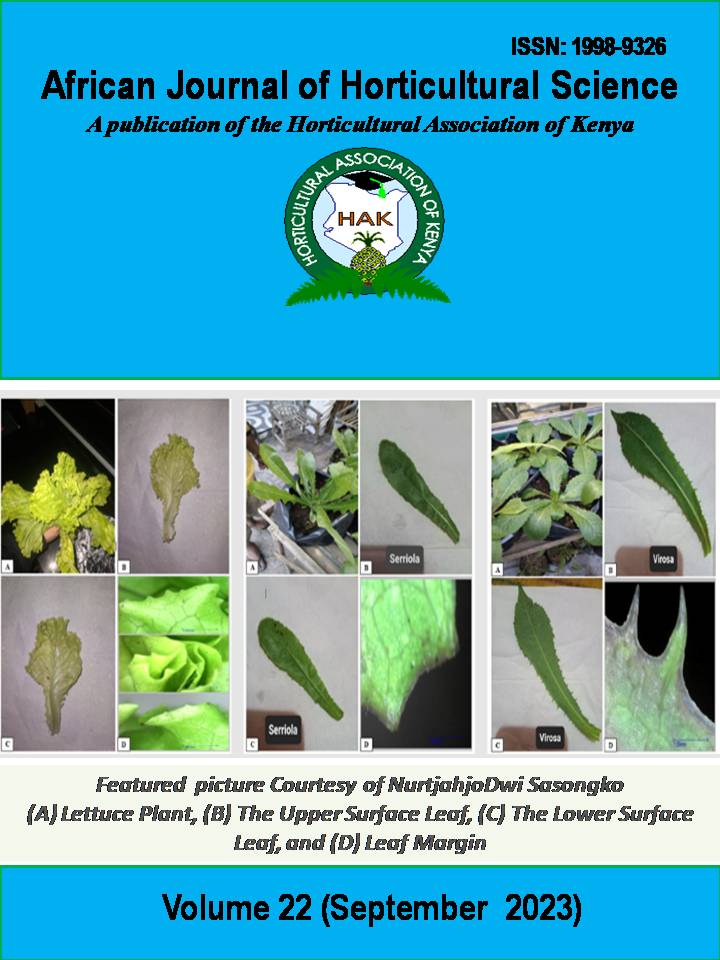 Downloads
License
Copyright (c) 2023 African Journal of Horticultural Science
This work is licensed under a Creative Commons Attribution-NonCommercial-NoDerivatives 4.0 International License.
Copyright for articles published in this journal is retained by the journal. Thus, copyright for material accepted for publication will transfer to the publisher of AJHS journal.