Phylogenetic Relationship of Three Lettuce species (Lactuca spp.) based on their Molecular Profiles using RAPD Markers
Keywords:
Asteraceae, genetic diversity, Lactuca, lettuce, phylogenetic tree, RAPD, Maximum Parsimony
Abstract
Lactuca spp., Asteraceae, like: Green lettuce (L. sativa) is the most common type of lettuce grown, while the spiny (L. serriola) and wild lettuce (L. virosa)have not been cultivated so far in Indonesia. The current study explores those three species morphological and molecular characters. The data obtained are then used to elucidate the genetic relationship among the species. The genomic DNA was extracted from each sample and measured for their qualities and quantities. The extracted genomic DNA subjected to RAPD-PCR (Random Amplified Polymorphic DNA) using eight primers as follows: OPF-1, OPF-2, OPF-3, OPF-4, OPC-11, OPAE-5, OPA-2, OPAM-7. The total number of DNA bands were evaluated for polymorphic or monomorphic patterns. The polymorphic bands were analysed using the MEGA 6 software applying a maximum parsimony method to obtain the cladogram of the samples. The RAPD-PCR obtained a total of 91 amplicons, where 84 (92.3%) of the 91 amplicons were are polymorphic and 7 amplicons were monomorphic. Primers that produced the highest polymorphism are OPF-1, OPF-4, OPC-11, OPAE-5, OPA-2 (100%) and OPAM-7. OPAM-7.produced the highest number of DNA bands, 20 DNA bands).The relationship among these three species showed that L. serriola and L. virosa have the closest genetic distance with a bootstrap 100%. The cladogram following the maximum parsimony analysis grouped the species into two clads, i.e., clad I and clad II. Clad I consists of L. serriola and L. virosa, clad II consists of L. sativa only.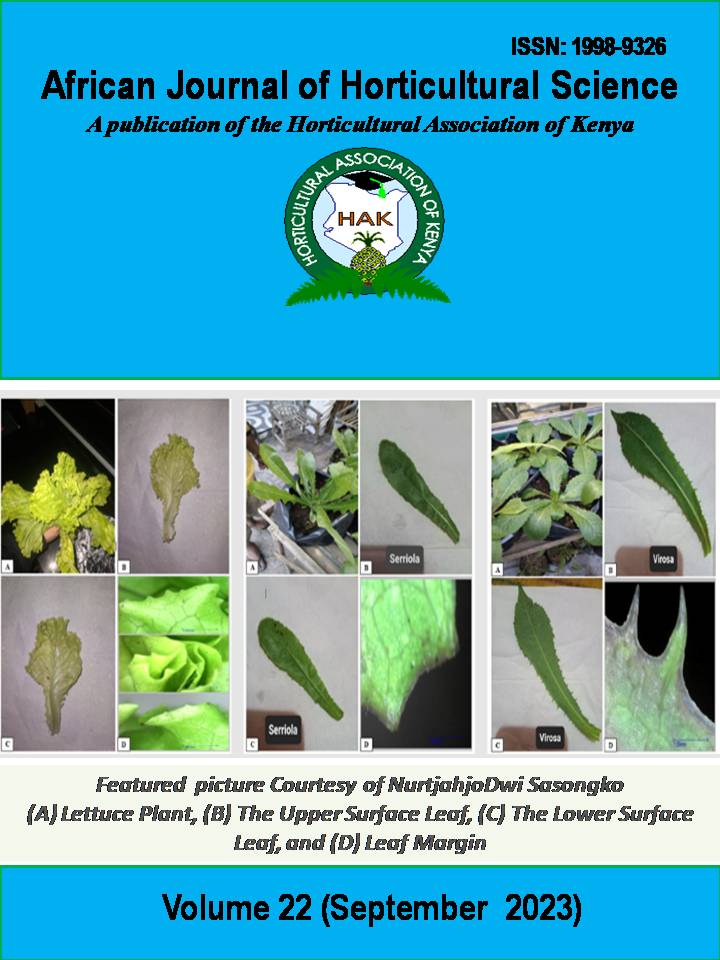 Downloads
License
Copyright (c) 2023 African Journal of Horticultural Science
This work is licensed under a Creative Commons Attribution-NonCommercial-NoDerivatives 4.0 International License.
Copyright for articles published in this journal is retained by the journal. Thus, copyright for material accepted for publication will transfer to the publisher of AJHS journal.