HIGH POLLINATOR DIVERSITY AND SPECIES EVENNESS INCREASES AVOCADO (PERSEA AMERICANA) YIELD
Keywords:
Abundance, avocado, Dipterans, diversity, yield
Abstract
Avocado (Persea americana, Lauraceae) production in Kenya is effected by insect pollinators. There is lack of information on the diversity and abundances of avocado pollinators as well as their effects on the yield. This study was to determine the influence of pollinator diversity and abundances on avocado yields in farmers' fields in Murang'a County, Kenya. Data collected included identity of flower visitor and the number of individuals observed visiting per species in each season. Later, on each tree, two terminal branches with inflorescences of the same age and size were randomly identified, one bagged to deny visits by pollinators and another left open for unlimited access by pollinators. Additionally, fruit set and yield data were collected from the two treatments and compared. Data were analyzed using analysis of variance and means separated using Students' T-test in 10th edition Discovery Genstat software. Species diversity was analyzed using Shannon-Weiner Index. Pollinator diversity was higher in season two (nine insect species) as compared to season one and three (six insect species each). Abundances of Dipterans was higher in season two (40.32%) than in season one (4.68%) and three (4.53%). Fruit yield per terminal branch was highest in season two (mean: 1.00) than in season one (mean: 0.45) and season three (mean: 0.35) from the un-bagged terminal branches. On the bagged treatment, fruit yield of mean 0.27 was recorded in season two while yields in season one and three were (means: 0.14 and 0.18) fruits per terminal branch, respectively. This translated to over 185% and over 92% yield increase in fruit yield per terminal branch in un-bagged and bagged treatments, respectively when pollinator diversity increased in season two. The study confirmed that high pollinator diversity and higher species evenness increased avocado yields in Murang'a, Kenya. We recommended that wild pollinator conservation is key for increased avocado yields.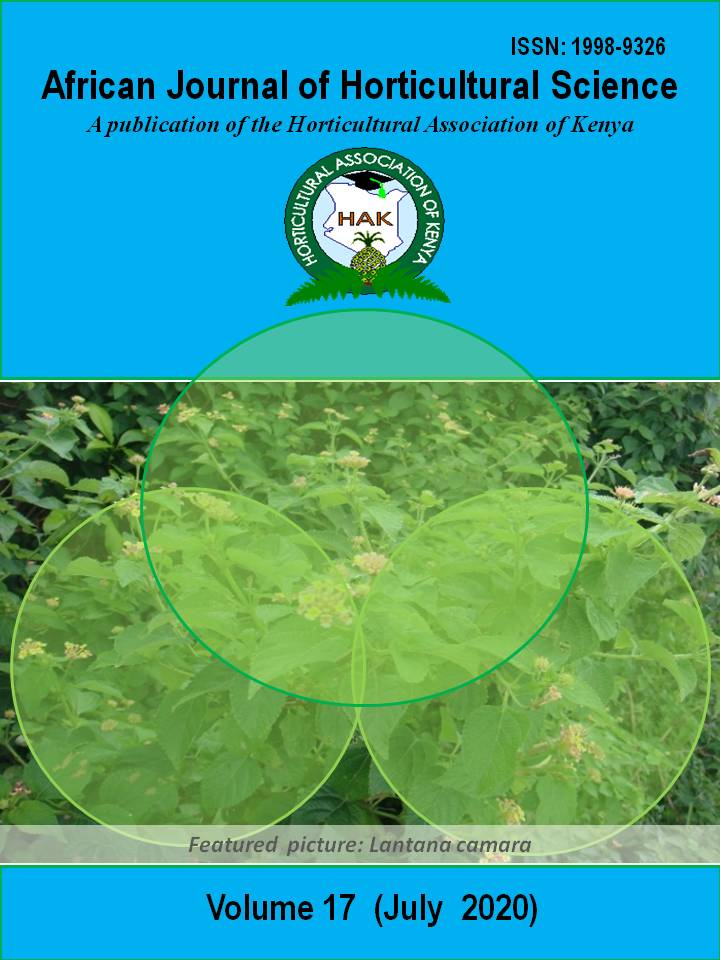 Downloads
License
This work is licensed under a Creative Commons Attribution-NonCommercial-NoDerivatives 4.0 International License.
Copyright for articles published in this journal is retained by the journal. Thus, copyright for material accepted for publication will transfer to the publisher of AJHS journal.