COMPARATIVE EVALUATION OF PERFORMANCE OF COMMERCIAL GREENHOUSES IN COASTAL HUMID CLIMATIC REGION OF KENYA
Keywords:
Greenhouse performance, Hot-humid climate, Amiran, Horti-pro, Anna F1
Abstract
Appropriate production structures are essential in promoting growth and yield of crops under protected cultivation. The need to access food all year round by the ever increasing world population demands that technologies such as greenhouse production be engaged widely in food production efforts by all producers. This technology can be employed in both temperate and tropical climates. Identification of a greenhouse design that will maximize on the most limiting climatic factors in order to produce a conducive micro-climate that stimulates growth is an important step in the decision to use greenhouse farming. To recommend the best commercial greenhouse for hot humid coastal climatic region of Kenya, a comparative study was conducted in Mtwapa for two seasons in 2017. The study compared growth and yield of tomato var. ANNA F1 in Amiran and horti-pro greenhouse prototypes. All agronomic and nutritional factors were held constant for the two greenhouses and compared against a crop grown in the open field. Amiran greenhouse promoted significantly (p = 0.001) longer plant vines, but produced lower fruit yield compared to Horti-pro greenhouse. The Amiran tomatoes however had significantly (p = 0.05) sweeter fruits than those in Horti-pro. The temperature-relative humidity combination in the Amiran greenhouse was cooler but more humid than that from Horti-pro. There were no significant differences in micro-climate, growth and yield of tomatoes between the two greenhouses and those grown in the open field during the long rains. It was however much cheaper by 30% to install Horti-pro greenhouse compared to Amiran models. To enhance the productivity of greenhouses, investment in automation of micro-climate control systems is essential as well as targeting off-season production to maximize greenhouse economic benefits. Farmers in the hot humid coast may consider using UV coated PVC 205 micron cover material to reduce the cost of production as well as maximize yields.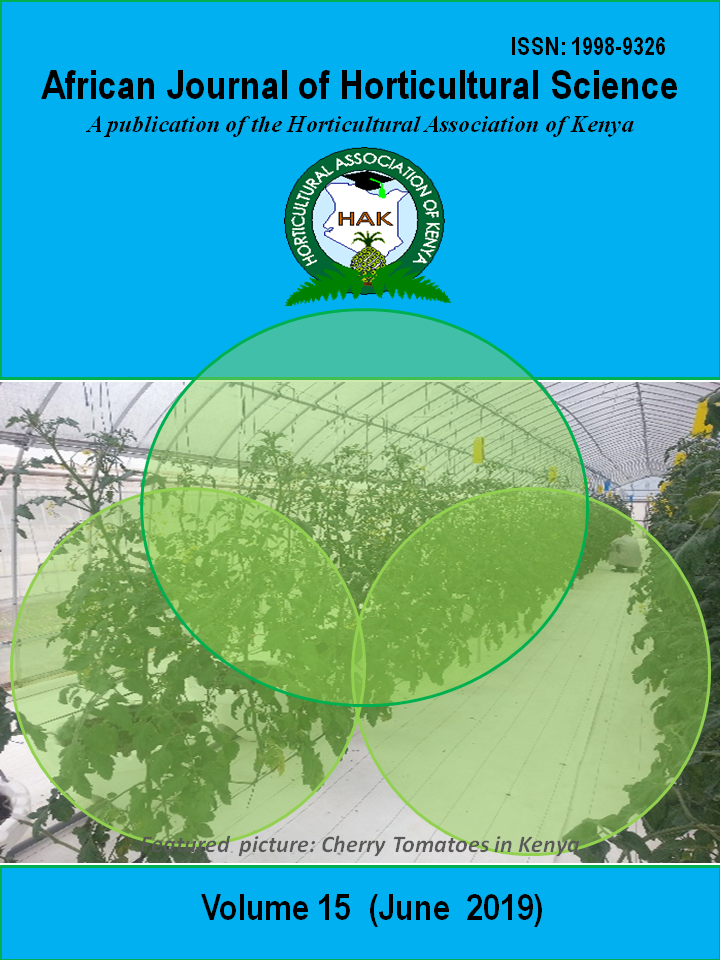 Downloads
License
This work is licensed under a Creative Commons Attribution-NonCommercial-NoDerivatives 4.0 International License.
Copyright for articles published in this journal is retained by the journal. Thus, copyright for material accepted for publication will transfer to the publisher of AJHS journal.