EFFECTS OF NEAR INFRA-RED REFLECTION GREENHOUSE COOLING ON BLOSSOM-END ROT AND FRUIT CRACKING IN TOMATO (Solanum lycopersicum L.)
Keywords:
Natural Ventilation, Insect-proof Nets, Tropics, Protected Cultivation
Abstract
Blocking the near infra-red (NIR) portion of the global radiation from entering a greenhouse is one of the emerging environmentally friendly and economical ways of reducing greenhouse temperature without increasing the humidity. In this study, the effect of cooling greenhouses by NIR-reflection on the microclimate, fruit quality and growth of tomato crop was investigated. Two greenhouses measuring 10 m long by 20 m wide by 6 m high were constructed at the Asian Institute of Technology, Klong Luang, Thailand. Both greenhouses were naturally ventilated and were clad using insect proof screens (78-mesh) on the sidewalls and ventilation openings, while the roof was covered with an ultra violet (UV) absorbing plastic film. Reduheat®, a NIR-reflecting pigment was applied on the roof of one of the greenhouses treated (Trt). Tomato plants were grown in the greenhouses in 10 L white plastic pots at a density of 1.5 plants/m2 and grown following commercial recommendations using the high wire system. Results show that the quantities (both weight and count) of tomato fruits affected by blossom-end rot (BER) as well as undersized fruits (weighing less than 50 g) during both dry and rainy seasons were lower for the plants grown inside the greenhouse with the NIR-reflecting pigment on the roof. On the other hand, in this greenhouse the number of cracked fruits was slightly higher. Additionally, NIR-reflecting pigment reduced electricity consumption by the ventilation fans (used during emergency). Application of NIR-reflecting pigments on greenhouse covers for cooling, reduction of water requirement and fruit quality improvement is recommended for crops grown inside greenhouses when solar radiation is in abundance.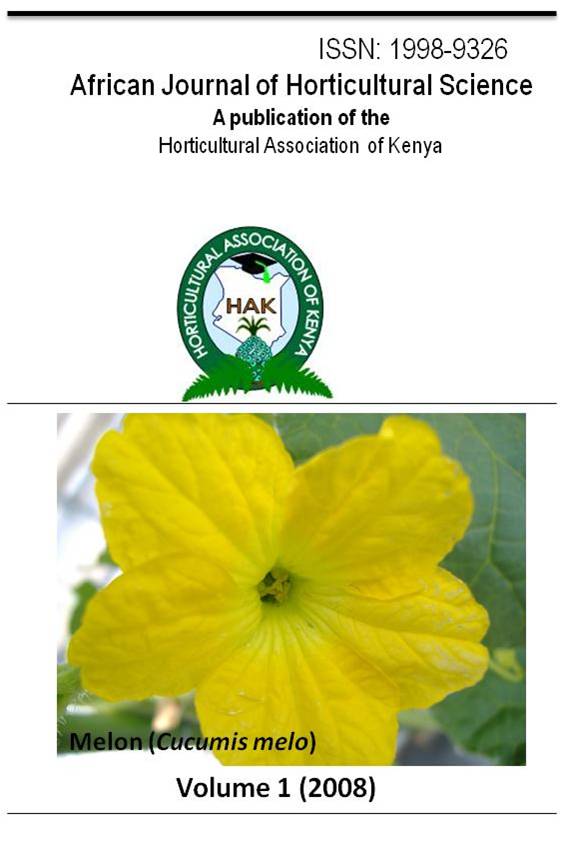 Downloads
License
Copyright (c) 2021 African Journal of Horticultural Science
This work is licensed under a Creative Commons Attribution-NonCommercial-NoDerivatives 4.0 International License.
Copyright for articles published in this journal is retained by the journal. Thus, copyright for material accepted for publication will transfer to the publisher of AJHS journal.