FARMERS' KNOWLEDGE, PERCEPTION AND MANAGEMENT PRACTICES OF PAPAYA RINGSPOT DISEASE IN KENYA
Keywords:
Carica papaya; production; losses; measures; extension services
Abstract
Production of papaya, an important fruit crop in Kenya is severely constrained by papaya ringspot disease (PRSD). Understanding farmers' knowledge, perceptions and practices is a prerequisite to establishing an effective disease management strategy at the community level. This study assesses the farmers' knowledge, perceptions and management practices of PRSD in Kenya. The study was conducted in five major papaya growing regions in Kenya; Coast, Western, Rift valley, Central and Eastern and a total of 103 small holder farmers randomly identified were interviewed using a semi-structured questionnaire. Chi-square (X2) and one-way analysis of variance (ANOVA) were conducted to assess any differences between regions, gender and education levels with regards to the knowledge, perceptions and management practices of PRSD. The results show that while about four in 10 farmers (38.8 %) had the precise knowledge of PRSD, about a half of those knowledgeable of the disease (48.8 %) did not know the cause. Slightly more than fifty percent (54.8 %) of the study respondents sprayed plants showing the disease symptoms with chemical insecticides, 4.7 % removed the infected plants from the field while 40.5 % did not apply any management measure to the diseased plants. The study findings indicate awareness and knowledge about the identification and cause of the ring spot disease on papaya, as well as management practices are limited for most papaya farmers in the sampled regions. As such, this study highlight the need for capacity building of the Kenya papaya farmers on proper identification and management techniques of the disease.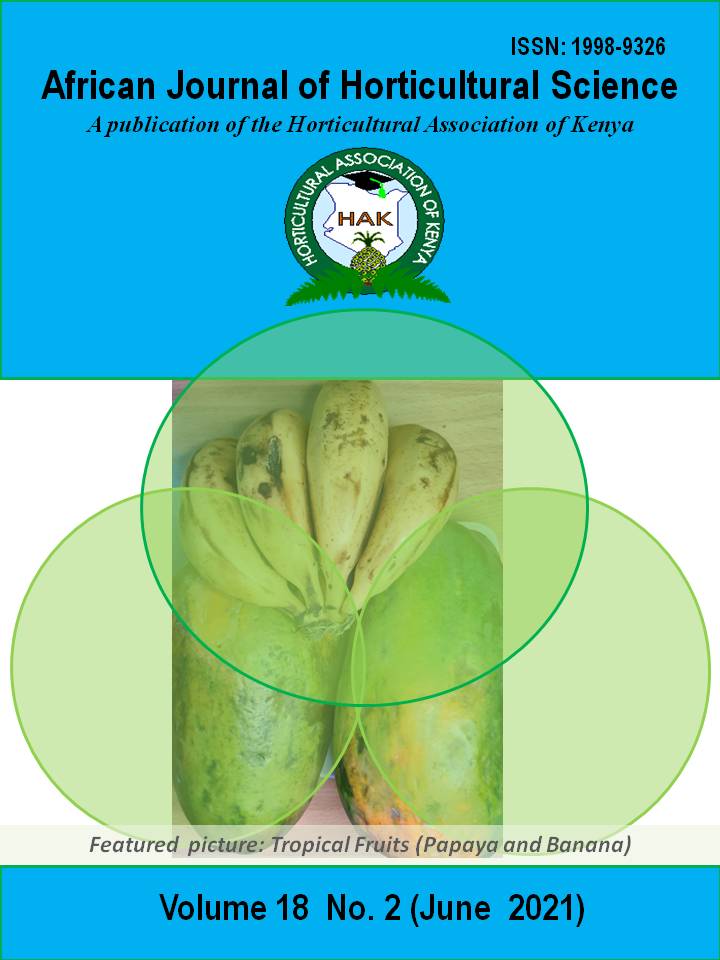 Downloads
License
This work is licensed under a Creative Commons Attribution-NonCommercial-NoDerivatives 4.0 International License.
Copyright for articles published in this journal is retained by the journal. Thus, copyright for material accepted for publication will transfer to the publisher of AJHS journal.