EVALUATION OF SALINITY STRESS ON EARLY PERFORMANCE OF COWPEA (VIGNA UNGUICULATA L. Walp)
Keywords:
Cowpea, Germination, Salinity, Salt tolerance, Adaptation
Abstract
Cowpea (Vigna unguiculata L. Walp) is the second most important legume after bean in Kenya. Cowpea grains and leaves are mainly used for human and animal consumption. In Kenya, low production of cowpea among small scale farmers is attributed to both biotic (pests and diseases) and abiotic factors (salinity). Salinity inhibits metabolic processes and constrains plant growth which impacts on crop productivity in the majority of agricultural fields. Cowpea is mostly grown on arid and semi-arid regions which are prone to salinity. The objective of this study was to assess the germination in cowpea subjected to sodium chloride and calcium chloride which are major ions in saline soils. Four cowpea varieties (K80, M66, Kunde 1 and KVU 27-1) that are commonly grown in Kenya were studied. Seeds were sown in inert sand in a greenhouse. The electrical conductivity of both CaCl2(aq) and NaCl(aq) were adjusted to four treatments of each salt: 0 for control, 4, 8 and 12 dS/m in replicates of three. The experiment design was 4 x 8 factorial experiment laid out in complete randomized design. Data on number of seeds which germinated, germination associated parameters and days to emergence was obtained. Data was subjected to one way ANOVA means separated by LSD α = 0.05. Results showed that as each salt level increased, days to emergence increased and the number of seeds which germinated, final germination percentage and seedling vigour declined. M66 recorded the least days to emergence, highest number of seeds, final germination percentage and seedling vigour followed by KVU 27-1, K80 and Kunde 1 respectively.  It was concluded that M66 was the most tolerant variety while Kunde 1 was significantly affected by salinity levels above 8 dS/m. Farmers in saline affected areas should adopt growing M66 cowpea variety.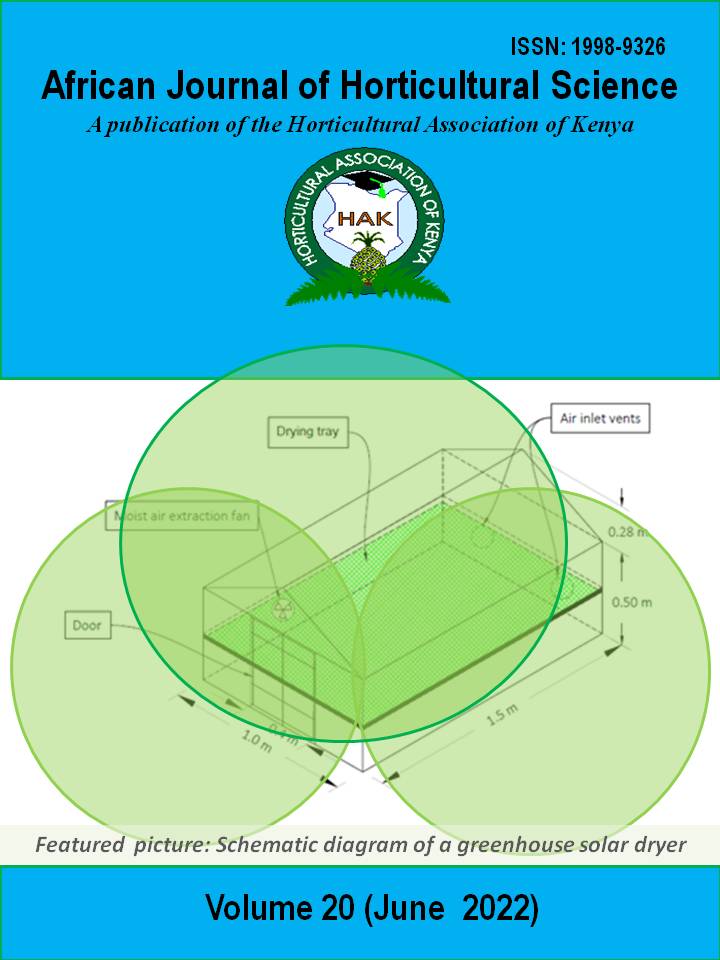 Downloads
License
Copyright (c) 2022 African Journal of Horticultural Science
This work is licensed under a Creative Commons Attribution-NonCommercial-NoDerivatives 4.0 International License.
Copyright for articles published in this journal is retained by the journal. Thus, copyright for material accepted for publication will transfer to the publisher of AJHS journal.