HONEY CONCENTRATION DELAYS DETERIORATION OF FRESH CUT PUMPKIN FRUITS BY RETARDING MICROBIAL GROWTH
Abstract
Pumpkin pulp is an important source of β-carotene, a precursor for vitamin A. The increasing awareness of health benefits of pumpkin fruits explains ever rising price of pumpkins fruits at the urban and peri-urban areas beyond reach of most consumers. The pumpkin fruit is normally sliced and wrapped in polyfilm that is sold to consumers albeit rapid deterioration in quality. Currently, there is limited information on the effect of honey syrup concentration on the quality and microbial growth of fresh sliced pumpkin fruits at room temperature. A study was conducted to evaluate the effect of honey concentration on quality and microbial growth of sliced pumpkin fruit at room temperature. The experiment was laid in complete randomized design replicated four times. Four honey concentrations were used: 0 %, 25%, 50% and 100% (w/v). Microbial study was conducted using nutrient agar and Sabround Dextrose agar for the fungi and bacteria tests, respectively. Morphological characteristics and chemical tests were used to identify the bacterial species present. Fungi were identified based on morphology as observed under microscope at ×10 magnification upon methyl blue staining. Pumpkin slices treated with 100% honey concentration exhibited lowest microbial count and species distribution, highest total soluble solids and best sensory rating. The rate of deterioration of sliced pumpkin fruit depends on honey concentration. Pure honey (100% concentration) delays rotting sliced pumpkin fruits by inhibiting growth of spoilage fungi and bacteria. To sustain acceptability and storage quality of sliced pumpkin fruits it is recommend to dip the slices in hundred 100% honey.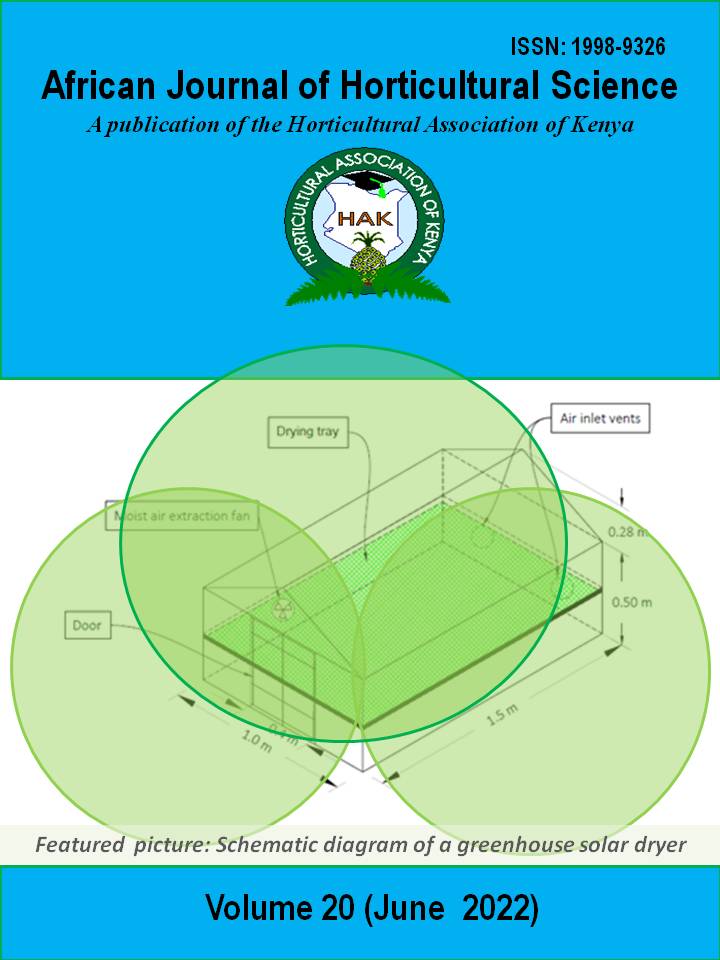 Downloads
License
Copyright (c) 2022 African Journal of Horticultural Science
This work is licensed under a Creative Commons Attribution-NonCommercial-NoDerivatives 4.0 International License.
Copyright for articles published in this journal is retained by the journal. Thus, copyright for material accepted for publication will transfer to the publisher of AJHS journal.