EVALUATION OF THE RHIZOSPHERE SOIL PH AND ELECTRICAL CONDUCTIVITY OF BIXA TREATED WITH DIFFERENT FERTILIZER AMENDMENTS
Keywords:
Bixa, organic and inorganic fertilizers, rhizosphere, electrical conductivity, soil pH
Abstract
Bixa orellana L. is a shrub that is commercially known as 'annato'. The main product that is obtained from Bixa orellana is an organic dye which is present in the seed coat, commercially called 'annatto'. It is widely used in the cosmetic and the food industry for giving red to orange-yellow colours. Bixa farming in Kenya has declined since the 1970's due to the use of cheap synthetic materials. However, the limited use of synthetic food colours has triggered a high demand for natural bixa. A study was undertaken in Kwale County with the objective of evaluating the Rhizosphere soil pH and Electrical Conductivity (EC) of bixa plants treated with different fertilizer amendments. This was done in Shimoni at the Kenya bixa nucleus farm where bixa plants of the same age were subjected to treatments of different levels of organic (poultry manure at 5 tons/ha and 10 tons/ha respectively) and inorganic fertilizers (NPK 17:17:17 at 100 kg/ha and 150 kg/ha) as well as a combination of the two (manure 2.5tons plus NPK 50 kg/ha and manure 5 tons plus NPK 75 kg/ha respectively) with a control, in a randomized complete block design with 3 replications. Bixa roots from each treatment were dug out and analysed for the rhizosphere soil pH and electrical conductivity respectively. The results revealed that the rhizosphere soil pH improved with the application of both organic and inorganic fertilizer soil amendments from 5.78 to 6.5. The treatment in which manure was applied at the rate of 10 tons/ha produced significantly higher levels of rhizosphere pH than the rest. On the soil rhizosphere EC, the study revealed that the EC significantly reduced with increased use of organic fertilizer amendments to as low as 0.2 (mS*/cm). The application rate of manure at 10 tons/ha recorded the lowest EC levels.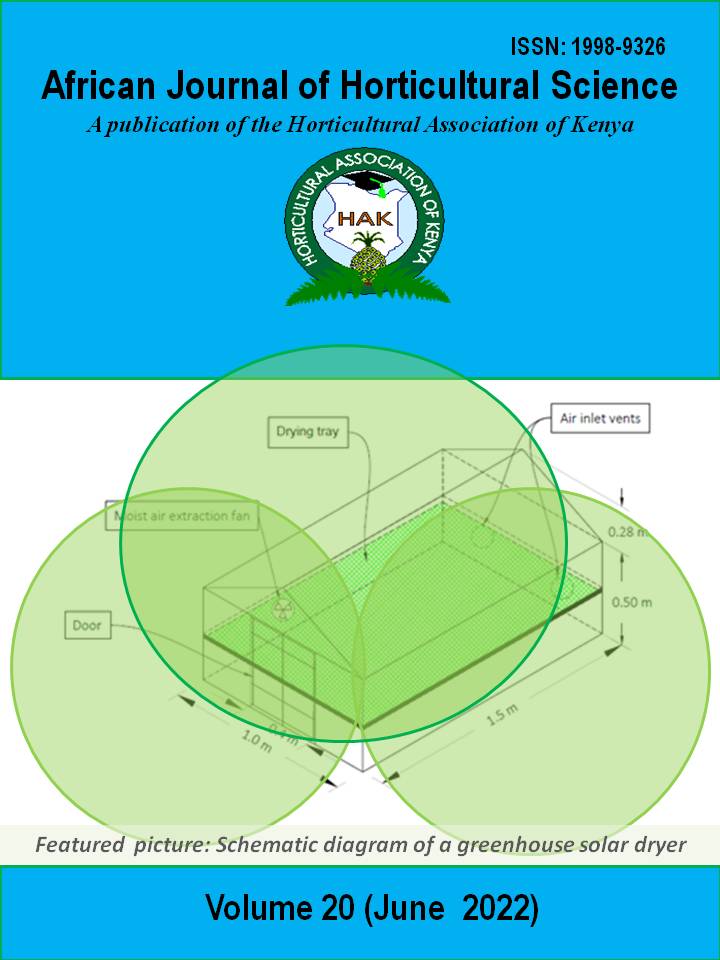 Downloads
License
Copyright (c) 2022 African Journal of Horticultural Science
This work is licensed under a Creative Commons Attribution-NonCommercial-NoDerivatives 4.0 International License.
Copyright for articles published in this journal is retained by the journal. Thus, copyright for material accepted for publication will transfer to the publisher of AJHS journal.