DISTRIBUTION PATTERNS AND FACTORS INFLUENCING ADOPTION OF IMPROVED MANGO VARIETIES IN LOWER EASTERN KENYA
Keywords:
mango varieties, distribution, agro-ecological zones, adoption, farm characteristics
Abstract
Varietal distribution and performance of mango (Mangifera indica L.) along rainfall and temperature gradients in Kenya is largely undocumented. The objective of this study was to document the distribution patterns and factors influencing adoption of improved mango varieties across a broad spectrum of agro-ecological zones (AEZs). Data on mango distribution, cultivation and farm characteristics were collected from 280 farms in 28 quadrats spread in four transects of Makueni, Kitui, Machakos, Embu, Tharaka-Nithi and Meru Counties. The 29 different mango varieties found belonged to three categories: Floridan (F), Kenyan Large (KL) and Kenyan Small (KS). The varieties in the 'F' and 'KL' categories have small tree canopy, bear large sized high-quality fruits and are improved mango varieties (IMVs). The varieties in the 'KS' category (traditional landraces) have large canopy and bear small sized, low quality fruits. Mean mango tree density per farm was 65 and Apple variety had highest abundance of 35%. While all varieties occurred below 1500 m a.s.l. only 19 varieties were found above 1500 m a.s.l. Spearman's rank correlation and stepwise linear regression analysis indicated that altitude, farmers' selection of planting material, availability of profitable and reliable market and farmer's perception that rainfall had decreased all had significant (p < 0.001) positive influence on the abundance of IMVs adopted. These findings suggest that farmers adoption of IMVs was not a passive process. The wide range of AEZs versatility of the IMVs indicates farmers' increased adoption of suitable IMVs can provide higher quality mango fruit to mitigate poverty and food insecurity as an adaptation to climate change.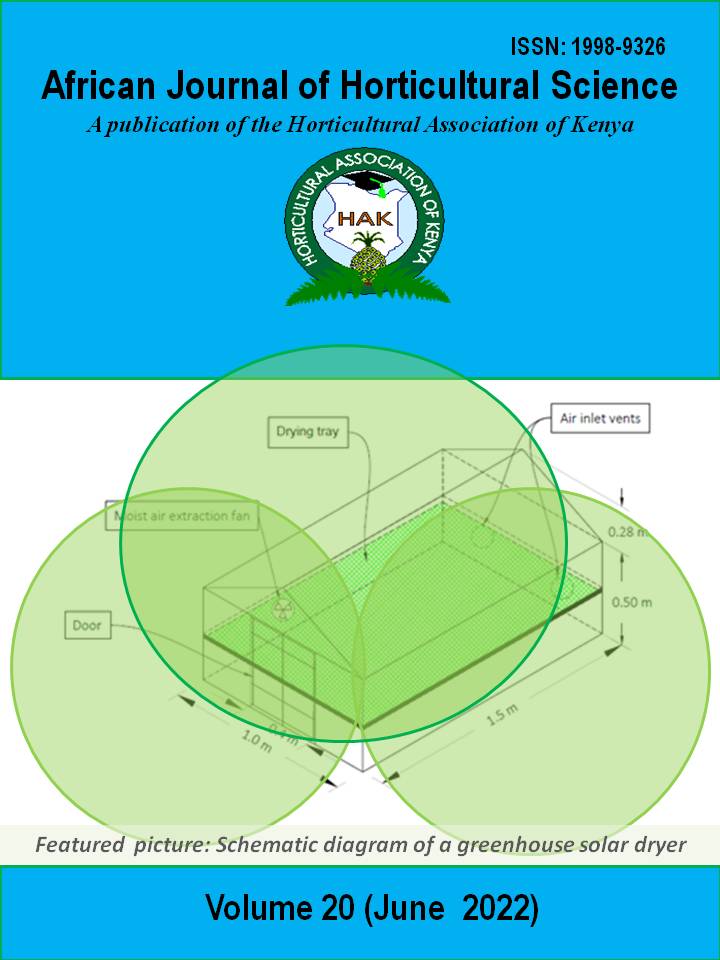 Downloads
License
Copyright (c) 2022 African Journal of Horticultural Science
This work is licensed under a Creative Commons Attribution-NonCommercial-NoDerivatives 4.0 International License.
Copyright for articles published in this journal is retained by the journal. Thus, copyright for material accepted for publication will transfer to the publisher of AJHS journal.