EFFECT OF DIFFERENT SEED TREATMENTS ON THE GERMINATION CHARACTERISTICS OF TWO LOCAL VARIETIES OF Corchorus olitorius
Keywords:
Corchorus olitorius, seed treatment, germination
Abstract
Corchorus olitorius is a traditional vegetable in Ghana. It is relatively affordable and has become a popular alternative to okro, especially when it becomes expensive in the market. However, little agronomic research has been done on the crop in Ghana. For example, there is no recommendation for seed treatment for improved germination. A factorial experiment, made up of two local varieties of Corchorus olitorius and six seed treatments, was carried out in order to compare the Coefficient of Variation of the Germination Time, Uncertainty of the Germination Process, Synchrony, Percentage, Mean Time and Mean Rate of Germination of seeds. The treatments consisted of soaking seeds in water at room temperature for 24 hours, steeping seeds in water at 100° C for ten seconds, soaking in water at 80° C for 15 minutes, soaking in concentrated sulphuric acid for two, five and ten minutes, respectively; and were laid out in a laboratory in a completely randomized design with four replications. The results of the study indicated that steeping of Corchorus olitorius seeds in hot water and concentrated sulphuric acid (98%) significantly (p < 0.05) improved germinability to more than 50% compared to 3% in the control; rate to more than 0.02 seeds per day compared to 0.007 seeds per day in the control; and Synchrony of Germination to more than 0.5 compared to 0.1 in the control. Mean Germination Time reduced to less than two days compared to five days in the control. It is recommended that Ghanaian small scale farmers steep their seeds in water at 100 °C for ten seconds prior to sowing.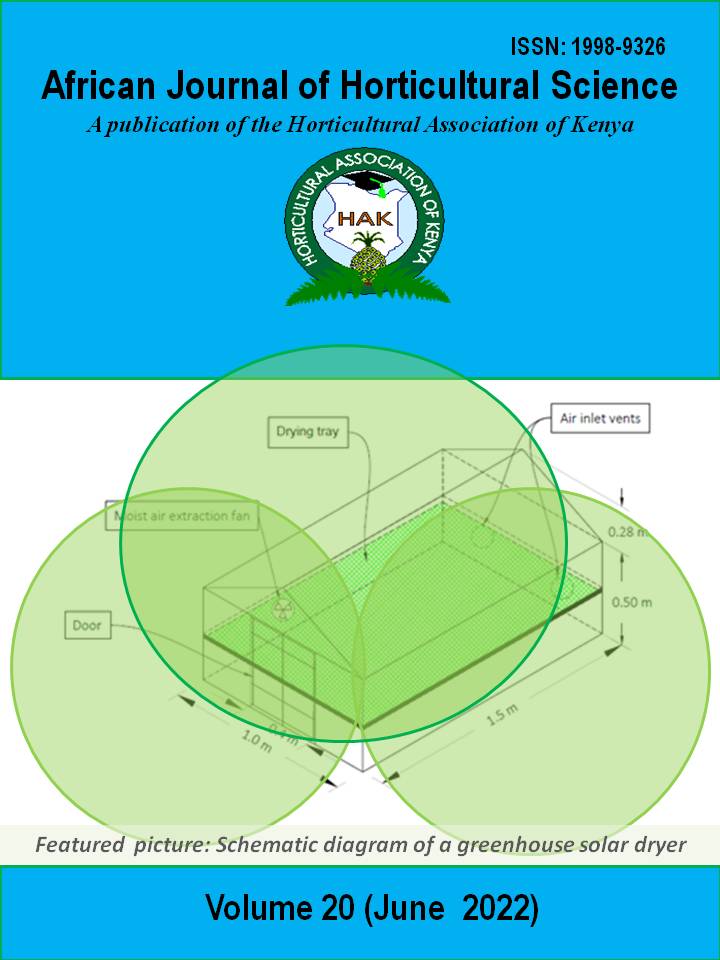 Downloads
License
Copyright (c) 2022 African Journal of Horticultural Science
This work is licensed under a Creative Commons Attribution-NonCommercial-NoDerivatives 4.0 International License.
Copyright for articles published in this journal is retained by the journal. Thus, copyright for material accepted for publication will transfer to the publisher of AJHS journal.