EFFICACY OF NEEM, TITHONIA AND TEPHROSIA LEAF EXTRACTS IN MANAGEMENT OF ROOT-KNOT NEMATODES IN FRENCH BEANS (Phaseolus vulgaris L.)
Keywords:
Neem, Tithonia, Tephrosia, Phytochemicals, French-beans, Nematodes, Phytotoxicity
Abstract
Root-knot nematodes (Meloidogyne spp.) are a major problem in Frenchbean production within the smallholder farming systems. Control of root-knot using synthetic nematicides is not viable due to environmental concerns relating to their toxic residues. There is need to develop alternative control options that will promote soil health and reduce parasitic nematode densities. A study was conducted at Chuka University Horticultural Demonstration Farm to determine the efficacy of Neem (Azadirachta indica A. Juss), Tithonia (Tithonia diversifolia and Tephrosia (Tephrosia purpurea) leaf extracts in management of root-knot. Controlled lath house and field trials were conducted where the treatments were extracts from Neem, Tithonia and Tephrosia at different concentration levels of 25 ml/L, 50 ml/L and 100 ml/L). Vydate (Oxamyl 10%) a synthetic nematicide served as a standard positive control while treatments with no extracts application and no nematode application served as negative controls. The treatments in the lath house were arranged in completely randomized design while the field trials were arranged in randomized complete block design. Fench beans were planted on nematode infested soils and data on root galling indices and yield components was collected. Data collected was subjected to analysis of variance and significantly different means separated using Tukey's Studentized Range Test at P=0.05. The extracts evaluated reduced root galling with their efficacy being similar to that of Vydate® (Oxamyl 10%) which was used as a positive control. Neem extracts treatments had the lowest mean galling index of followed by Tithonia. Root-knot nematode galling indices were highest in the untreated control at 10 both in trial I and trial II. Treatment trials from Neem and Tithonia at concentration levels of 100 ml/L resulted to highest yield of French beans while yield from the untreated plants were the lowest. The results indicate extracts can be adopted to suppress root-knot nematodes.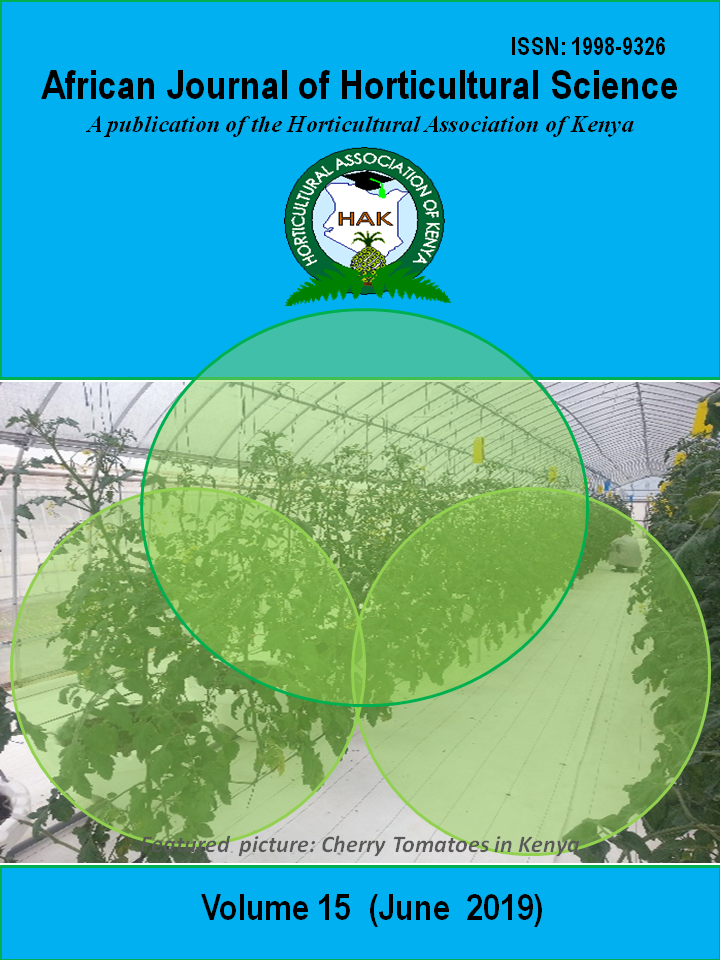 Downloads
License
This work is licensed under a Creative Commons Attribution-NonCommercial-NoDerivatives 4.0 International License.
Copyright for articles published in this journal is retained by the journal. Thus, copyright for material accepted for publication will transfer to the publisher of AJHS journal.