EVALUATION OF PLANT EXTRACTS ON EGG HATCHING AND JUVENILE MORTALITY OF FRENCH BEAN ROOT-KNOT NEMATODES
Keywords:
Neem, Tithonia, Tephrosia, Phytochemicals, French-beans, Nematodes, Phytotoxicity
Abstract
Nematodes are a major constraint to agricultural production worldwide. For sustainable food production, effective management of plant parasitic nematodes is essential. The assault on the environment through the use of synthetic agrochemicals and unreliable results from crop rotation systems has necessitated the search for sustainable, effective and environmentally acceptable nematode management options. Preliminary study was carried out at Chuka University Research Laboratories in 2017 to determine the presence of phytochemicals within the plants extracts of Neem, Tithonia and Tephrosia. Tests were done for presence of flavonoids, alkaloids, saponins and terpenoids which are effective against parasitic nematodes. Invitro experiment in a complete randomized design was established which involved exposing egg-masses and juveniles of French bean root-knot nematodes to ethanol extracts from fresh leaves of Neem, Tithonia, Tephrosia and Nimbecidine neem based product as a control. The LC50 value of each extract was determined by assessing the mortality of juveniles and hatching eggs (in the range of 5–95%) upto 7 days which depended on extract phytotoxicity. The data collected on egg hatching and juvenile mortality was subjected to analysis of variance and significantly different means were separated using Tukey's Studentized Range Test at P=0.05.Comparison between LC50 values of the extracts indicated that Neem, Tithonia and Tephrosia at 5 and 10 per cent concentration suppressed hatching eggs and increased juvenile mortality percentage. Neem and Tithonia were the most effective crude extracts on the mortality of juveniles at 80 and 73.67% respectively at 7th day. The study demonstrated that plant extracts has a promising potential that could be exploited in the management of root-knot nematodes in vegetable production systems.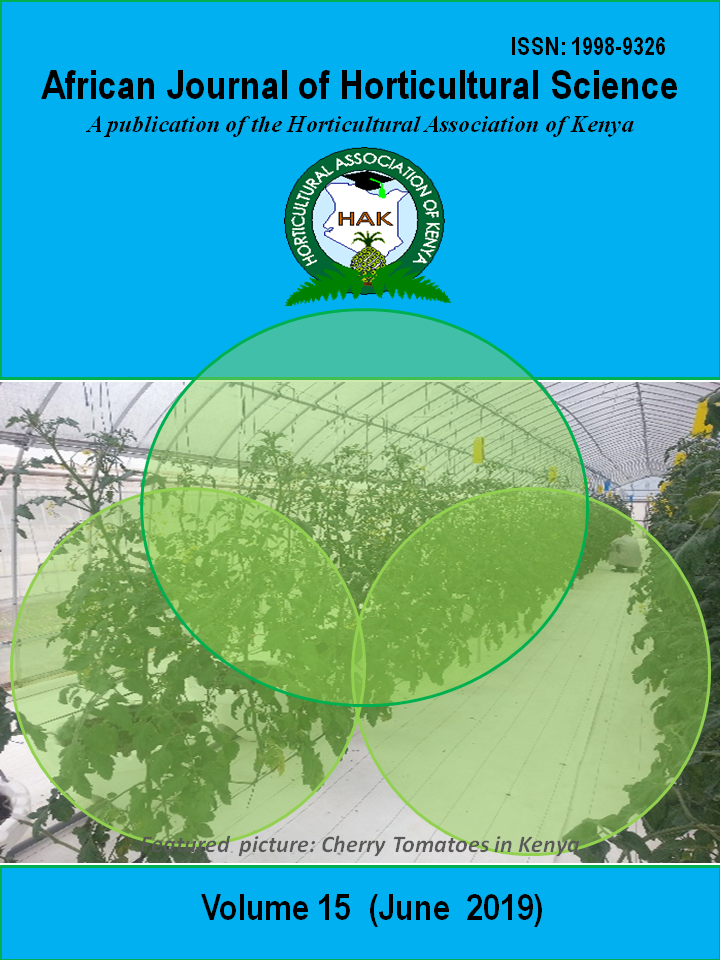 Downloads
License
This work is licensed under a Creative Commons Attribution-NonCommercial-NoDerivatives 4.0 International License.
Copyright for articles published in this journal is retained by the journal. Thus, copyright for material accepted for publication will transfer to the publisher of AJHS journal.