INTERACTIVE EFFECT OF NITROGEN RATES ON GROWTH OF SPIDER PLANT (CLEOME GYNANDRA L.) ACCESSIONS IN RUIRU, KENYA
Keywords:
Accessions, African leafy vegetable, Cleome gynandra, , growth parameters
Abstract
Spider plant (Cleome gynandra L.) is one of the important African leafy vegetables (ALVs). It has been used by local African communities as a source of nutrition in their diets for many years. In Kenya, Spider plant is among the ALVs whose consumption has grown steadily. However, limited access by farmers to high yielding spider plant varieties has been a major constraint to its production in Kenya. The plant has high demand for its nutritive and health promoting bioactive compounds that combat malnutrition and reduce human degenerative diseases. Despite its contribution to nutrition for many years, the yields of spider plant are below potential. Its supply and cultivation remain low, primarily due to unavailability of high yielding varieties. A study carried out at Ruiru and Juja Sub-counties, Kiambu County in Kenya sought to establish the influence of both nitrogen rates and genotypic variation on spider plant accessions growth as a basis for future breeding and conservation programs. A split plot experiment arranged in a randomized complete block design with three replications was used in this study. There were three nitrogen rates, i.e. 2.6 g and 5.2 g N per plant and 120 g per plant manure (2.3% N). Accessions evaluated included UGSF12, MLSF17, MLSF3, UGSF14, UGSF25, UGSF36, IP3 and UGSF9 and commercial variety P6. Data was collected on leaf size, plant height, number of leaves, leaf area, stem size and petiole size. Data obtained was analysed using Analysis of variance and significant means separated using LSD at α = 0.05. The results indicated that accessions MLSF3, UGSF36, UGSF14 and MLSF17 produced the highest number of flowers, large petioles, big stem sizes and large leaf area, respectively. The study recommends adoption of accessions MLSF3, MLSF17, UGSF36 and UGSF14 by breeders in the breeding programs for commercialization.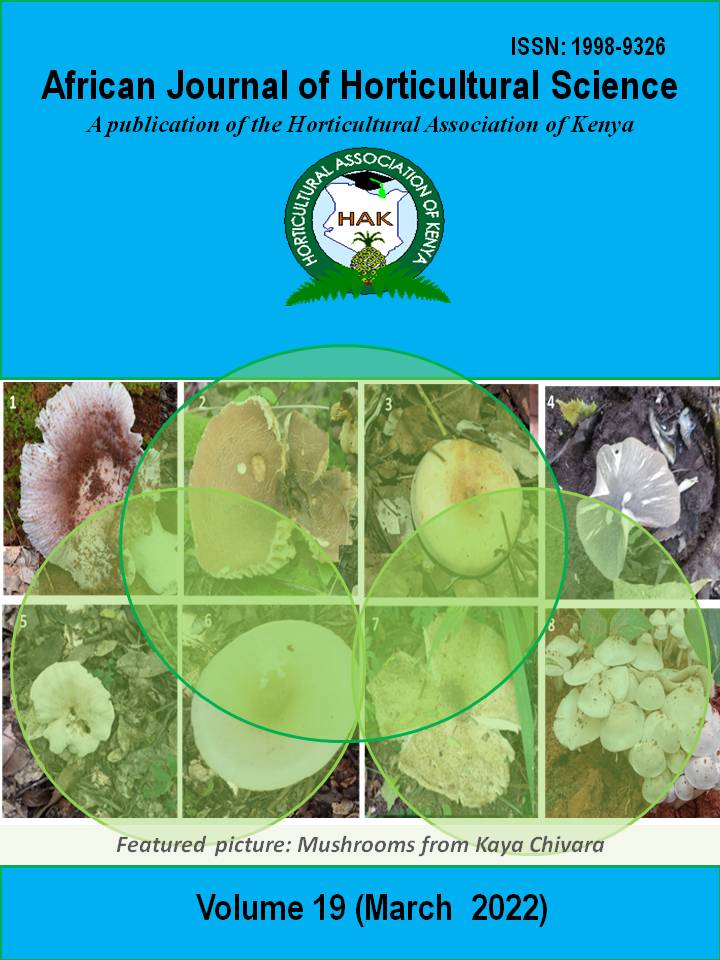 Downloads
License
Copyright (c) 2022 African Journal of Horticultural Science
This work is licensed under a Creative Commons Attribution-NonCommercial-NoDerivatives 4.0 International License.
Copyright for articles published in this journal is retained by the journal. Thus, copyright for material accepted for publication will transfer to the publisher of AJHS journal.