RESPONSES OF THREE Prunus spinosa L. ECOTYPES TO LOW TEMPERATURE UNDER CONTROLLED CONDITIONS
Keywords:
Ecotypes, electrolyte leakage, freezing, phenology, regeneration
Abstract
Non-native ecotypes could be at risk of low temperature damage when transplanted outside their adaptive range due to advanced sprouting status than that of the local ecotypes. Moreover, hybridization with local ecotypes might lead to a compromised (maladapted) future generation. In this study, we explored the influence of local adaptation to low temperature (frost) events at continental (German against Italian) and regional (two German ecotypes: Brandenburg (BB) and Rheinland-Pfalz (RPF) scales. Plants were sourced as cuttings and co-cultivated on the container area of Leibniz University of Hannover, Germany, for at least two years. In April 2013 and 2014 randomly selected plants were treated with temperatures of -12°C and -6°C and 5°C under controlled conditions respectively. Plants treated at 5°C served as control. Plant frost injury was measured as relative electrolyte leakage (REL). Biomarkers (glucose, fructose, sucrose, starch and proline) after frost event were quantified. Regeneration after the frost events were evaluated and quantified by the number of shoots and length of the longest shoot. All the data were subjected to multiple analysis of variance using R statistical tool and means at p ≤ 0.05 were separated by Tukey. Frost events (-12°C and -6°C) led to shoots injury (high REL values), compromised apical dominance and reduced plant height compared to control. German ecotypes did not differ significantly in damage but differed inconsistently in a few biomarkers. This implies that German ecotypes could be substituted for another in a planting program. In 2014 experiment, the Germany ecotype BB differed significantly with the Italian ecotype in growth, REL and a few biomarkers. The Italian ecotypes sprouted early than the German ecotypes thus the high REL related to phenological stage of the leaves. Nevertheless, mature leaves had lower REL than emerging or expanding leaves. The regeneration performance after frost exposure indicated that Italian ecotypes formed more shoots and were taller than the German ecotype. Imperatively the Italian ecotype could be utilised cautiously in Germany.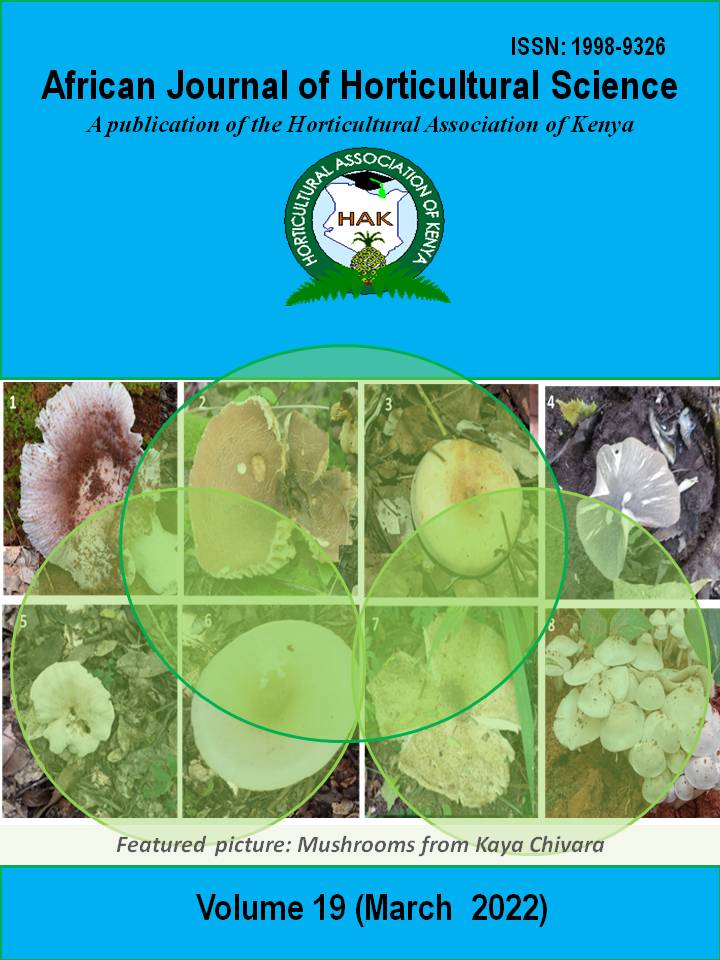 Downloads
License
Copyright (c) 2022 African Journal of Horticultural Science
This work is licensed under a Creative Commons Attribution-NonCommercial-NoDerivatives 4.0 International License.
Copyright for articles published in this journal is retained by the journal. Thus, copyright for material accepted for publication will transfer to the publisher of AJHS journal.