DOMESTICATION OF INDIGENOUS EDIBLE MUSHROOMS USING THE OPEN-NURSERY SYSTEM
Keywords:
Domestication, Indigenous edible mushrooms, Open nursery cultures
Abstract
Kaya forests are pockets of natural rainforests in the coastal regions of Kenya. For generations, the more than 50 Kaya forests have sustained communities living around them with food, medicine and fuelwood. Mushrooms have seasonally been harvested from these forests but the harvests have dwindled with time because of population pressure and frequent disturbance on the breeding grounds. This study was intended to domesticate edible mushrooms species collected from Kaya Chivara in Kilifi using the open-nursery system. Spawn from six (6) indigenous edible mushrooms species were prepared and cultured on plots under a baobab (Adansonia digitata) tree canopy using a complete randomized block design. Hakoranyani, (Rusulla sp), Mwasi (Tylopilus sp), Mbwate (Agaricus sp), Choga nyama (Agaricus sp). Mhama (Rusulla sp), Choga sikiro reruhe (Pleurotus sp) were evaluated against a commercial mushroom, the Pleurotus spp in this trial. Moisture was regularly maintained and daily harvest (g) entries were made for each replicated  plot. Cumulative weekly harvest (g) for each species were then computed for the four-week harvest season. Commercial mushroom, the Pleurotus species had an average yield of 360g per week Chogasikiro reruhe yieded 315g, Mwasi (300g), Muhama (260g), Hakoranyani (249g), Mbwate (191g) and Choga Nyama at 120g. There was significant statistical difference (p < 0.05) among the species in production. Choga sikiro reruhe, Mwasi, Muhama and Hakoranyani adapted well to open nursery system outside the forests. Interestingly, contamination by Trichoderma spp. was negligible under this system. The higher productivity of commercial species could be attributed to the purity of the spawn and the non-mycorrhizal dependence of most commercial mushroom species compared to indigenous species which require symbiotic relationships with specific forest trees for optimal blooms. It is prudent to further evaluate these mushrooms species  for conservation and commercialization purposes.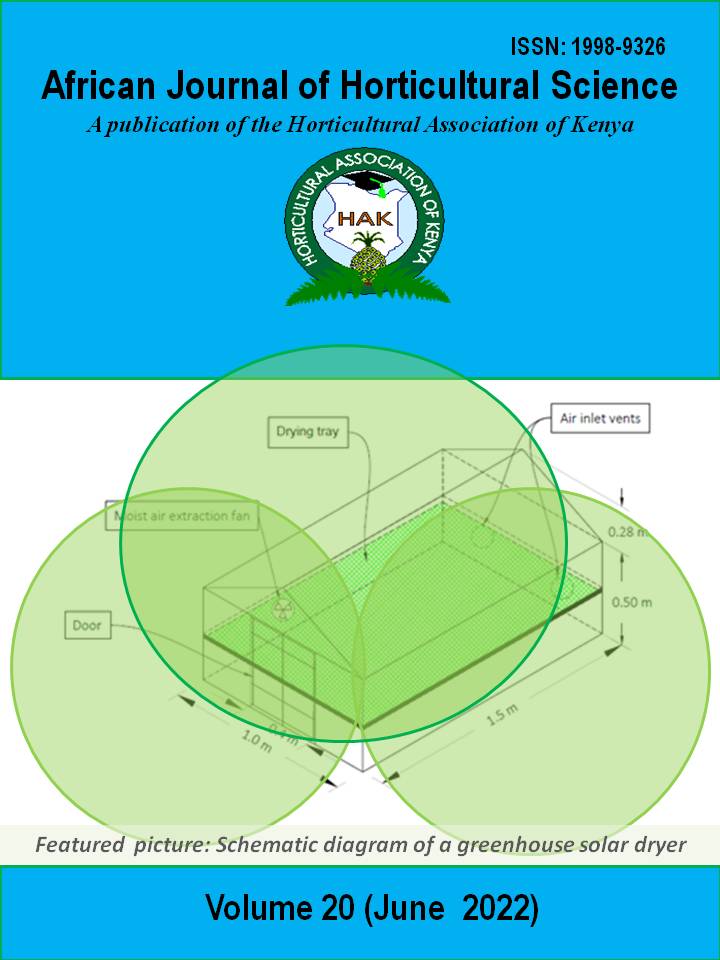 Downloads
License
Copyright (c) 2022 African Journal of Horticultural Science
This work is licensed under a Creative Commons Attribution-NonCommercial-NoDerivatives 4.0 International License.
Copyright for articles published in this journal is retained by the journal. Thus, copyright for material accepted for publication will transfer to the publisher of AJHS journal.